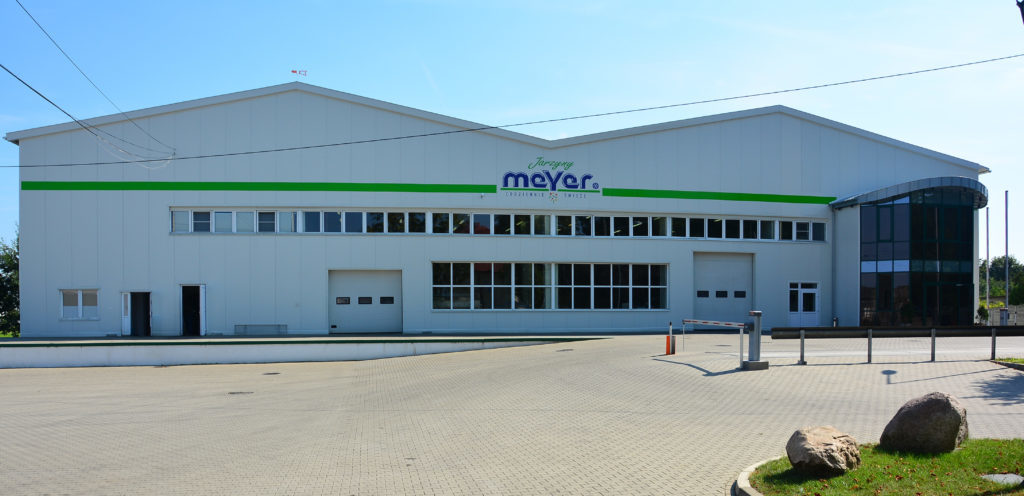 Jarzyny Meyes Sp. z o. o. company derived from a handed-down traditions, many years being associated with fruits and vegetables production. History of the company started many years ago, since 1972, when Hans Mayer founded potatoe peeling plant in German town Twistringen. Five years later he implemented onion and carrot into his production process. It's official name was registered in 1984 and stands up untill this day unchanged – Mayer Gemuesebearbeitung GmbH. In further years they steadily built their brand, expanding range and variety of fresh and frozen products, not only at German market, but also in whole Europe. To this day this German company is extending itself, introducing new technologies into their production processes. Our company Jarzyny Meyer Sp. z o. o. is generally regarded as "daughter" of German Meyer Gemuesebearbeitung GmbH. It was founded in July 2005 and is allocated in Kożuchów, Poland. It's senior executive since 2011 has been Matthaus Meyer. Our main specialty is production of frozen fruit and vegetable goods. We are a modern plant, constantly developing and having contractors all over the world. We have cold stores with 27000 pallet places as well as modern processing technologies. From the very beginning, you have been focused on continuous development of your company:
In 2009, a warehouse with two loading ramps was added, which serves as a packaging warehouse.

another large investment was a refrigerated warehouse built in 2011, with approx. 5000 pallet places. This allows us to offer our customers year-round storage of frozen products.
In 2012, another cooling warehouse with over 10000 pallet places was commissioned
In 2017, 12.000 new pallet places, a packaging warehouse and three ramps will be opened.
The continuous development of Jarzyny Meyer allows us to employ more than 40 people, thanks to whom we can produce up to 22000 tons of frozen vegetables annually. Close cooperation with our parent company in Germany allows us to offer an assortment of almost all vegetables and frozen fruits and to optimally shorten lead times.